COMPREHENSIVE BUSINESS IT SOLUTIONS
With state-of-the-art remote monitoring and management tools, we can look after your entire IT infrastructure and provide consulting, innovative IT solutions, and help desk support for your single site or multi-office business. Don't see what you need among the listed services? Just ask. We've been in business since 1992 and stay current on all the new technologies and services.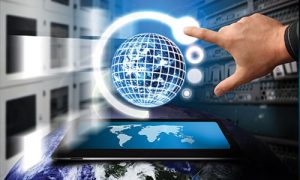 Network Administration
Small and medium-sized businesses often have little or no full-time IT staff. But more likely than not, they operate and depend on a network of computers, printers, and other devices that need to stay connected. Our team will act as your network administrators-making sure all assets in your network stay up-to-date and running efficiently.

WAN, LAN, VLAN, VPN, and VOIP Solutions
Adding a branch office? Enlarging your network? Need to provide remote users with secure access? Want to consider VOIP or Unified Communications solutions? We stay in touch with new developments in all of these areas and can plan, implement, and support any new project or technology you'd like to integrate into your business.

Mobile Device Management
Worried about the security of your company's smartphones? The risk of accidental or malicious damage to your company via lost, stolen, or misused mobile devices is very real. We can provide anti-malware, anti-theft, remote monitoring, and remote wipe solutions on smartphones and other mobile devices to safeguard your company.

24/7 Monitoring
Using state-of-the-art remote monitoring and management tools, we can keep an eye on your critical systems and get warnings when things start to go wrong-often before you become aware of a problem. We'll then use our toolbox of IT solutions to address your problem in a timely and efficient manner.

Real Time Alerts and Notifications
Our remote monitoring and management tools give us alerts and notifications the minute a system message or an event log entry is generated. Most serious problems are preceded by a number of such indicators. Getting those real-time warnings before problems become serious provides an opportunity to correct the problem and avoid the more serious consequences.

Help Desk and Remote Support
We remotely provide both automatic and attended support to your company via our remote monitoring and management tools. Our technicians are also available by phone to answer questions and provide help desk support for most server and desktop issues.

Network Security
With all the network security vulnerabilities making headlines in recent years, you need to be sure that your network infrastructure is as secure as possible. We can evaluate the PCI and/or HIPAA compliance and overall security of your network and identify issues that require correction. And whatever the issue, we can assist with the hardware and software upgrades that may be required.

Data Backup & Recovery
Even if you are performing backups of your critical data now, are you really prepared to quickly resume operations if a catastrophic disaster like a flood or fire happens to your business? If you are not properly prepared, it can take days or even weeks to recover from such a catastrophe and resume operations. Let us help your business plan for and take the necessary steps to ensure continued business operations with minimal downtime if your business experiences a disaster.

Managed AV
Every day we encounter businesses with inadequate or expired antivirus solutions. Even if you are not ready for our other business solutions, we can provide managed antivirus protection for your network that is maintained current and monitored by our technicians. If your system experiences a virus or malware infection, we assist you with the necessary corrective actions. And the cost for this service is no more than the retail cost of most brand name off-the-shelf anti-virus software.
A significant issue to many small and medium businesses is the large capital expense (CAPEX) associated with a first-time server installation or an IT infrastructure refresh when operating systems and hardware have reached the end of their useful or economical life. This often causes these businesses to use outdated software and obsolete hardware until a catastrophic failure forces them to upgrade at an inopportune time and under unfavorable financial terms.
We can provide hybrid cloud IT solutions that are paid for as an operating expense (OPEX) on a monthly subscription basis. These systems are fully-maintained and kept current-all as part of the monthly subscription fee. Even better, a new system using current hardware and software is provided upon each 3-year or 5-year contract renewal. With the easy-to-budget monthly cost of this innovative solution, you will always have up-to-date hardware and system software and you will never again need to incur a huge capital expense for infrastructure refresh.