Learn Why Every Business Needs Regular IT Support
Network Technology is the Central nervous system of Virtually every Business on the planet today. If you think your business wouldn't benefit from an experienced partner in this arena, think again.
Here's a Glimpse of What's Inside…
Business vs. Home Networks – A business network is vastly more complicated than a typical home network.
Catastrophic Consequences of IT Problems – It can take weeks to order and receive a replacement server, and then several days more to configure the server and reload all the necessary software and data. Days of downtime can be crippling to a business; weeks could be disastrous.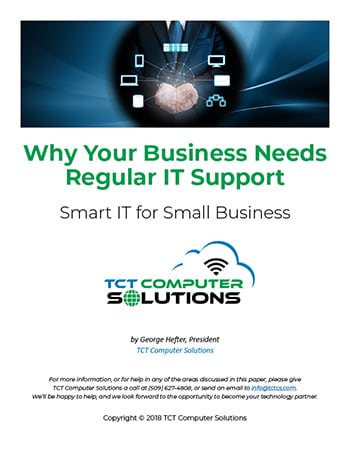 Implications of Poor Network Performance – A poorly set up IT infrastructure can perform slowly or cause myriad problems with employee log ons, printing, internet access, point-of-sale performance, or any number of other annoying issues that get in the way of efficiency and productivity.
Got An IT Question? Ask An Expert!
DROP US A LINE AND ONE OF OUR EXPERIENCED PROFESSIONALS WILL DO THEIR BEST TO HELP ANSWER YOUR QUESTION.
Spend more time running your business and less time worrying about the reliability of your IT infrastructure. Avoid costly downtime associated with outdated equipment and security vulnerabilities.
Professional-Grade Security
Get a network security configuration that is tailored to your business's specific needs, so you never have to worry about hacks, data breeches, or malicious software.
Predictable, Flat Rate Fees
Keep your IT infrastructure up-to-date and protected with 24/7 monitoring and regular maintenance, so you can avoid surprise emergency bills that are inevitable with the "break-fix" model.